If you're on my Patreon, you already knew this was coming…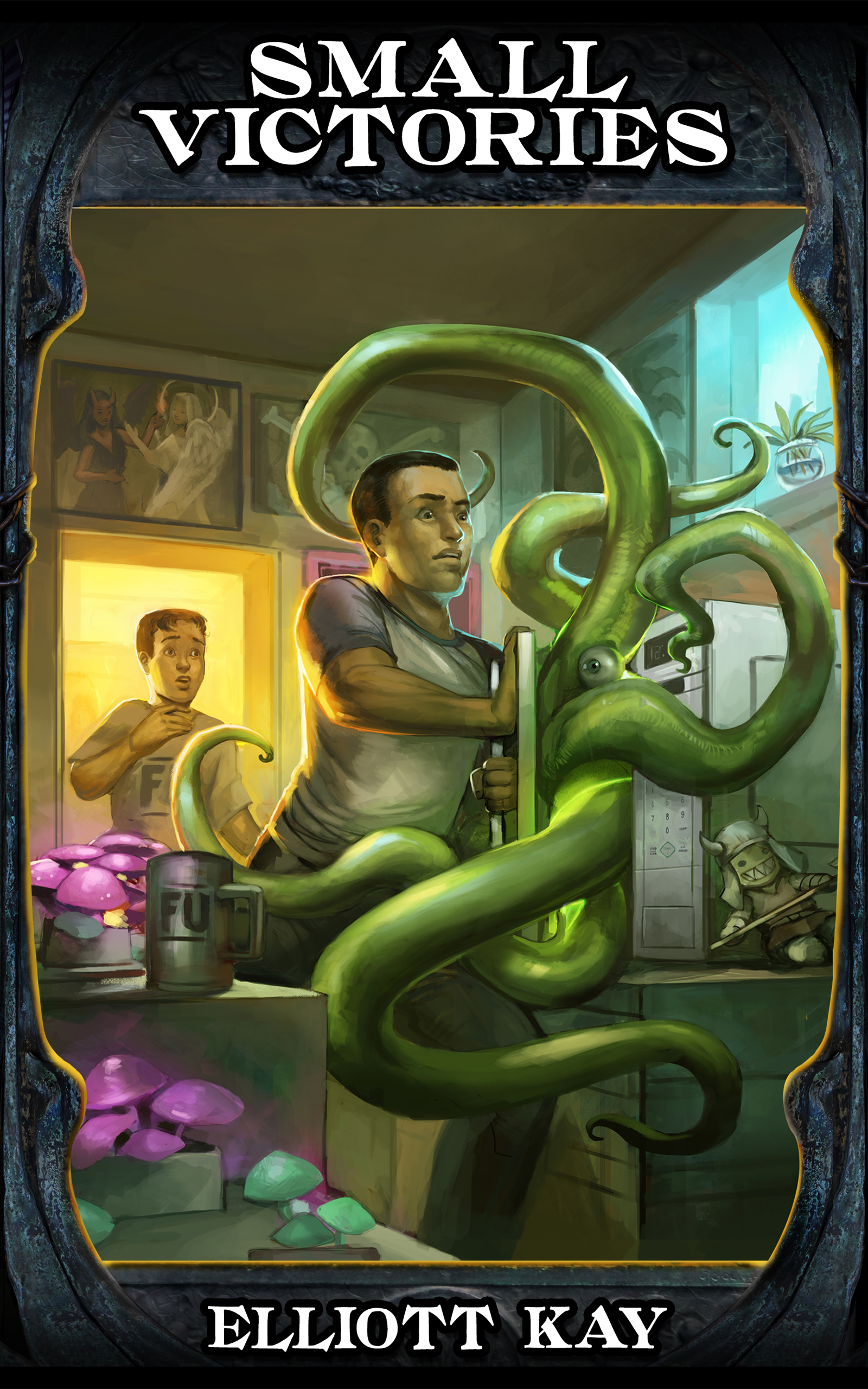 Even once the day is saved and the villains defeated, life may never be "normal" again. It certainly doesn't get boring. A hero could wind up in love, or living on the run… or serving as a dormitory resident advisor in space.
SMALL VICTORIES contains seventeen stories from the series Good Intentions, Wandering Monsters, and Poor Man's Fight. Collectively they include graphic sex, explicit violence, blasphemy, more graphic sex, rampant profanity, a homeowners association, polyamory, perfidy, fraternization, mushy conversations, toxic workplace conditions, poor leadership, morale issues, destruction of private property, fantasy depictions of demonic and divine beings bearing little or no resemblance to established religious canon, victim blaming, ambitious neighbors, sex in public, sex in private, sex while trespassing, kitchen sex, dressing room sex, indecent acts in a condominium listed for sale, mugging, stabbing, beating, shooting, impaling, defenestration, mutilated corpses, banditry, militarism, interrogations, false identification, low-gravity combat, nausea, vomiting, asphyxiation, teasing, lingerie, witchcraft, spacecraft, boarding actions, butter theft, police, homelessness, dangerous misuse of gym equipment, disrespect for vampires, breaking and entering, evasion of student visa restrictions, falsified dormitory records, phone calls of questionable timing, interstellar warfare, murder, assault, mistrust, harsh words, peer pressure, immolation, cinema criticism, abuse of authority, awkward conversations with mom, and alien drug mushrooms of questionable sentience in a refrigerator.
Get it here: https://www.amazon.com/dp/B08CJKJZNT/
The stories from this book are all taken from the monthly short story drop from my Patreon page–and, as such, supporters there will get the book for free as they've already kinda paid for it and then some. (As always, thank you so much.) Currently I'm planning this to be ONLY in ebook, as prospects of an audio version are a little thin and I'm not sure paperback would be cost-effective. Sorry if ebook-only is a barrier, but I'm hoping it won't be. It will, however, be on Kindle Unlimited.
On the charity note: for the first 30 days after launch, all author profits from this book will be donated to the Los Angeles Regional Food Bank and Second Harvest Food Bank of Orange County. Please note that neither organization is affiliated with me and this isn't any sort of endorsement from them; it's just a thing I'm doing. I WILL post receipts here. Los Angeles is a large and diverse area and it's where I grew up, so I know this will do some real good. Both of these organizations have four-star ratings from Charity Navigator.
To be clear on details: I'll post a screenshot of my sales data at the end of the 30 days, and I'll show the math for the author profits. The only carve-outs are Amazon's standard cut for sales and the 35% I need to withhold for federal taxes. (I realize that's a little high, but experience has taught me to play it safe; I'll cover the state taxes on my own, though.) The Kindle Unlimited payout will be estimated from the latest payout rate. Also, to be clear, the payout doesn't hit my bank account until two months after it's posted on my dashboard. If I can cover the donation out of my own finances before then, I'll do so, but if sales are awesome I might have to wait for the payment. I've done this sort of thing before and I try to be transparent about it.  🙂
If you're interested in getting on that Patreon for future story releases and sneak-peeks, give it a visit: https://www.patreon.com/elliottkay
As always, thank you so much for your support and thank you for reading!