UPDATES: Will come at the end of this post. Scroll down if you have zero interest in stuff like how many books I've ever sold. I won't blame you.
Spock: Excuse me, Admiral. But weren't those a birthday gift from Dr. McCoy?
Kirk: And they will be again, that's the beauty of it.
[to the Antique Store Owner]
Kirk: How much?
Antique Store Owner: Well, they'd be worth more if the lenses were intact. I'll give you one hundred dollars for them.
Kirk: [pause] Is that a lot?
(Quick introduction, since I see a few people are being pointed to this: Hi, I'm Elliott Kay. I write military sci-fi and urban fantasy (please heed the warnings!). Everything was initially self-published, though last year Amazon Publishing purchased my two SF books. Here I am on Amazon for quick reference.)
This post is brought to you by a Twitter chat between Annie Bellet, Django Wexler, and myself, although I was a total latecomer/buttinski to said conversation.
We got talking a few weeks ago about how the business of writing is rather opaque and how most writers don't talk about numbers — sales, income, etc. Nobody ever said to me, "Don't tell people your numbers," but I've noticed in listening to authors at conventions, readings, etc., that very few of them ever actually drop that kind of information. It really only turns into a quantifiable figure when somebody is a rock star author or the numbers sound good as part of a promotional effort. That reluctance to talk about numbers carries with it an implied "Don't talk about this" that I've never really understood.
When you see a novel on the shelf in a bookstore, let alone several novels by the same author, you can easily get the impression that they made a lot of money on that, but the reality is that most writers don't quit their day jobs. (I haven't quit mine, but it has the virtue of being very flexible.) The question of what writers can earn or how much they sell gets even murkier when we talk about self-publishing, as that market is changing so rapidly.
It's hard to know what to expect. People never really give you a number or a goal. And that frustrates me. I knew from the start that Good Intentions wasn't likely to fly with traditional publishing. It doesn't fit into neat marketing categories and it's much longer than the usual first book for a new author. I didn't like the things I would've had to do to chop it down to something a publisher would consider. When I was first deciding whether or not to self-publish it, a writer friend told me, "Even if you only sell 12 copies, that's 12 readers you wouldn't have if you didn't publish."
That resonated with me. I wrote a story, wanted people to read it, and it would be nice if they paid me something. Anything. Just on principle. Sounded reasonable to me. "I would like to make enough to pay the phone bill this month," is a reasonable first goal, or maybe the rent, or whatever. But again, people don't really put that into context by giving you realistic numbers.
The market has changed dramatically since I first got into it. I started out with an online following that was ready to give my stuff a little support, and it took off from there. And then, as with every book, there's a huge matter of luck at play. But it can happen. I'm no genius, I have no skill at marketing, and yet I've pulled this off. It's not realistic to say other people can't do as well or better. Many people have done better.
But it frustrates me that people don't talk about their numbers, so here are mine. I'm posting numbers of units sold (not given away) rather than using terms of income as Annie has done for my own reasons (plus I've signed a confidentiality agreement or two). Still, it's not hard to ballpark that income if you're really interested.
Warning: I have basically zero business training.
My numbers are drawn mostly from Kindle sales in the US, UK, German and Canadian markets. I have sold a little in the other markets, but not so much that I felt like I should include them all. (I am decidedly not big in Japan.) Print-on-demand sales are likewise a relative trickle, and so they aren't included.
2015 gets fuzzy, since Poor Man's Fight and Rich Man's War came under the Skyscape label midway through the year (and added audio versions of both). I've included all those numbers as a lump sum for 2015 without breaking down categories or whatever. Similarly, 2015 saw the release of Audible versions of my other books, and I've added those in, whether they were picked up via subscription selections or a la carte sales. Also, I don't have complete info yet on December Kindle sales and 4th quarter Audible sales, so again, take 2015 with a grain of salt.
Good Intentions came out in June 2011. Sales to date: 29,056.
Poor Man's Fight came out in late January 2013. Sales to date: 55,836.
Natural Consequences came out in August 2013. Sales to date: 16,238.
Days of High Adventure (a novella) came out in April 2014. Sales to date: 11,277.
Rich Man's War came out in late July 2014. Sales to date: 25,020.
Life in Shadows came out in December 2015. Apparently it sold exactly 2500 copies that month. I'm told by knowledgeable people that this is pretty good for an indie release in December.
A couple of graphs by year, if you're the visual type: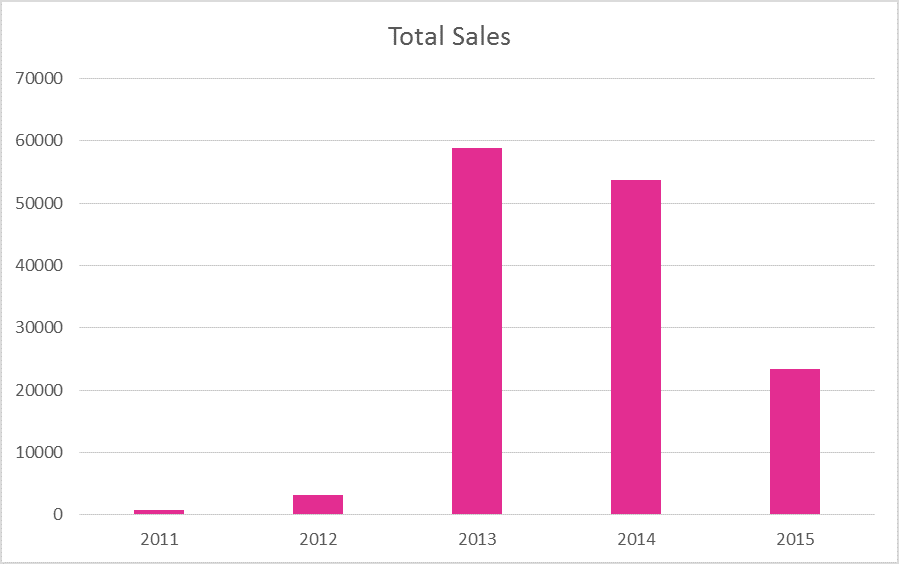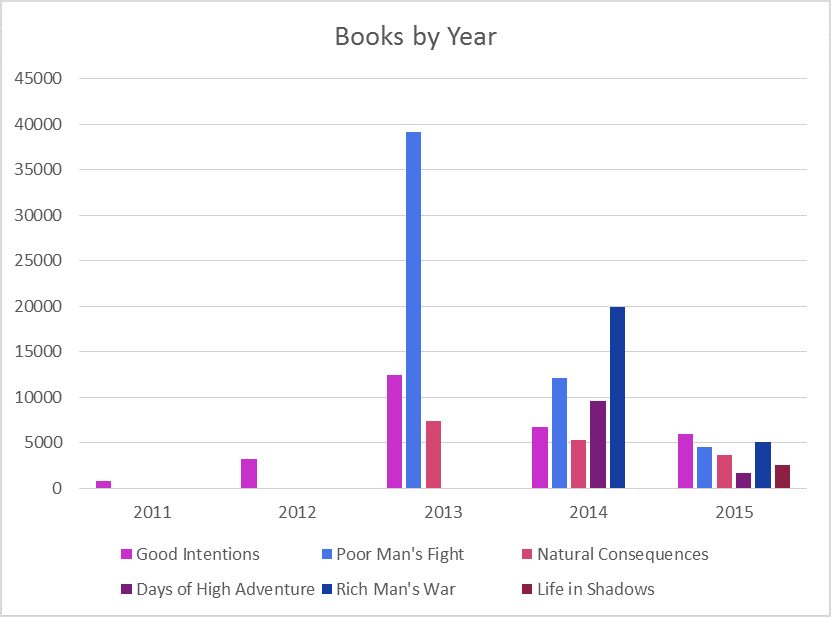 And if you're super curious about income, again, I can give you a ballpark for the self-published stuff, at least. (Again, 2015 gets wonky and partly confidential. It hasn't been the best year, but I didn't put anything new out until the last month of the year, either…but the audio for GI & NC have done pretty damn well.) My books have all sold for either $2.99 or $3.99. The vendor (Amazon) gets 30% of those royalties; I get the other 70%. From there, I sock away 35% for taxes. So to make a long story short, you can assume I make $1.36 per sale (using the $2.99 base) and multiply from there.
That doesn't account for business expenses or things like the money from Poor Man's Fight that was donated to the Iraq and Afghanistan Veterans of America in 2014 (probably the thing I'm proudest of out of all of this). The numbers also don't really reflect things that you might see in a more detailed breakdown, like the fact that the "tail" on my books seems to have shrunk sharply starting about the time Rich Man's War came out. I don't know if that's a market-wide phenomenon or what. Mostly I felt like a quick snapshot was enough to share.
Overall, I feel incredibly fortunate. People want to read my stories. Past that, every other measure of success is in the eye of the beholder. (Try to stay behind the beholder. All the eyes are bad news, but that big one over the mouth is such a pain…)
UPDATES:
All of my work is now available on Kindle Unlimited! That means my stuff is exclusive to Kindle, at least for now, but it turns out there's a reason why my numbers posted above don't include non-Kindle formats. Turns out I never sold much on Smashwords. I'm gonna give KU the standard three-month run and then maybe I'll renew or maybe I'll expand into other carriers again. Seems to have been a smart decision so far. We'll see how it goes!
Dead Man's Debt, the third book in Poor Man's Fight…is not ready for any announcements. Sorry about that. I hope to have news soon. Very soon. Hang in there.
Life in Shadows is in production with Audible, and Tess Irondale is on board once again! If you enjoyed her narration, you'll be glad to know she has performed more work for Audible besides my stuff. Apparently it includes even more urban fantasy set in Seattle. Honestly, I could listen to her read the phone book.
Book Three for Good Intentions is underway! I'm up past the 20,000-word mark. This book kicks off during the holidays following Natural Consequences and moves straight into the next semester of school. Book Three (as yet untitled) will build off of some of the events and characters from Life in Shadows and the other previous books. Also, Taylor is back for this one. Promise.  🙂
I haven't seen schedules yet, but I'll be a panelist at Norwescon again this year and maybe even doing a panel at Emerald City Comic Con!
Take care, and thank you so much for reading!