POOR MAN'S FIGHT has been released by Skyscape, Amazon's YA/New Adult imprint! The book is now available for Kindle as well as paperback and as an audiobook in MP3/CD format! It is also on Kindle Unlimited!
"Hey, wait a sec," you might be thinking…
"Don't I already have this book?" If you purchased it before today, then the answer is…mostly. The new release has been through a copy edit and reads much cleaner than the original. (Also, I was happy with the CreateSpace paperbacks, but the new paperback version is much nicer.)
"So do I actually need to buy this?" HOW COULD YOU EVEN ASK THAT? I THOUGHT WE HAD SOMETHING SPECIAL BETWEEN US! OH GREAT, IT'S MY BIG DAY AND NOW I'M CRYING! Honestly, while yes I obviously hope everyone buys two more copies, I'm not here to sell a bill of goods to anyone. This is Poor Man's Fight with a professional copy edit and a new label, but it's not a reboot or a "second edition" or anything you'd need to be able to follow a story you've already started. Every purchase helps, but so does every retweet, every review and every word-of-mouth recommendation. Again, it's also available on Kindle Unlimited, so subscribers can borrow freely.
"If I have the original on Kindle, will I get the new version automatically?" Unfortunately no. The new version comes with a new ISBN, which I believe is the dividing line there.
"Did anything get cut? Is anything changed? You didn't cut out all the damn swearing because it's a YA book, did you?"  NOPE! All the damn swearing is still there! Tanner is still an interstellar blasphemer. We changed Allison's name to Madelyn, as the number of women with A-names was a bit confusing, but that's about it. I hope to make that change very easy for continuing readers when the third book comes out.
"Hey, yeah! When's the third book coming out?" I'm working on it! The rough draft is about 2/3rds of the way done. I don't wanna guilt trip anyone, but naturally I'll be all the more excited and eager to finish it if the PMF re-launch goes well…  🙂
"Okay, but what have YOU done for ME lately?" As it happens, I commissioned Hugo-winning artist Julie Dillon to provide that painting of Admiral Yeoh at the top! I love it so much, I'm posting it in here again…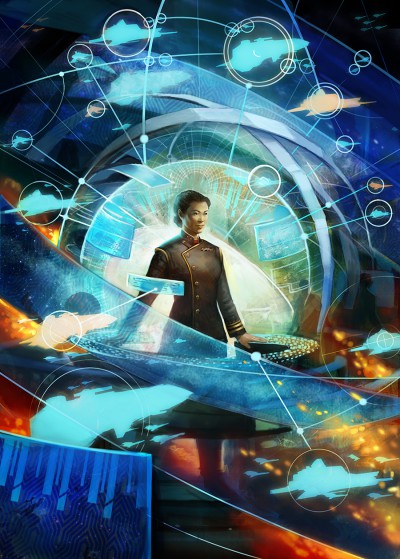 (You should go check out her site at some point, too. Just be ready to have your mind blown.)
I am so very grateful for all the support I've received from readers over the years. Thank you for being here! I hope to have more for you very soon!