Hey again,
Updates first: Good Intentions IV: PAST DUE is indeed on the way! It should be out at the very beginning of June. Recording on the audio is done and the ebook and paperback will be set real soon. I'm just waiting on a coordinated date with Audible. My next project will likely be the next Poor Man's Fight novel… however, my next release will be a collection of short stories from all my series as they have appeared on my Patreon! Cover art for that is in the works now.
And speaking of ART: I have two things to share, one of them finished just yesterday and the other a thing I should've shared long ago!
FIRST: Ever wondered what a Krokinthian looks like? The Union's alien neighbors have been mentioned in all the Poor Man's Fight novels, but we only "see" them take to the pages in No Medals for Secrets and a brief nightmare in Last Man Out. They'll be more involved in the next novel, though, and I thought it was time to work out some actual visuals. I got in touch with concept artist Kelly Toki, who worked up this design from the text and some additional correspondence with me. Gotta say, I don't think I could be happier with how they turned out.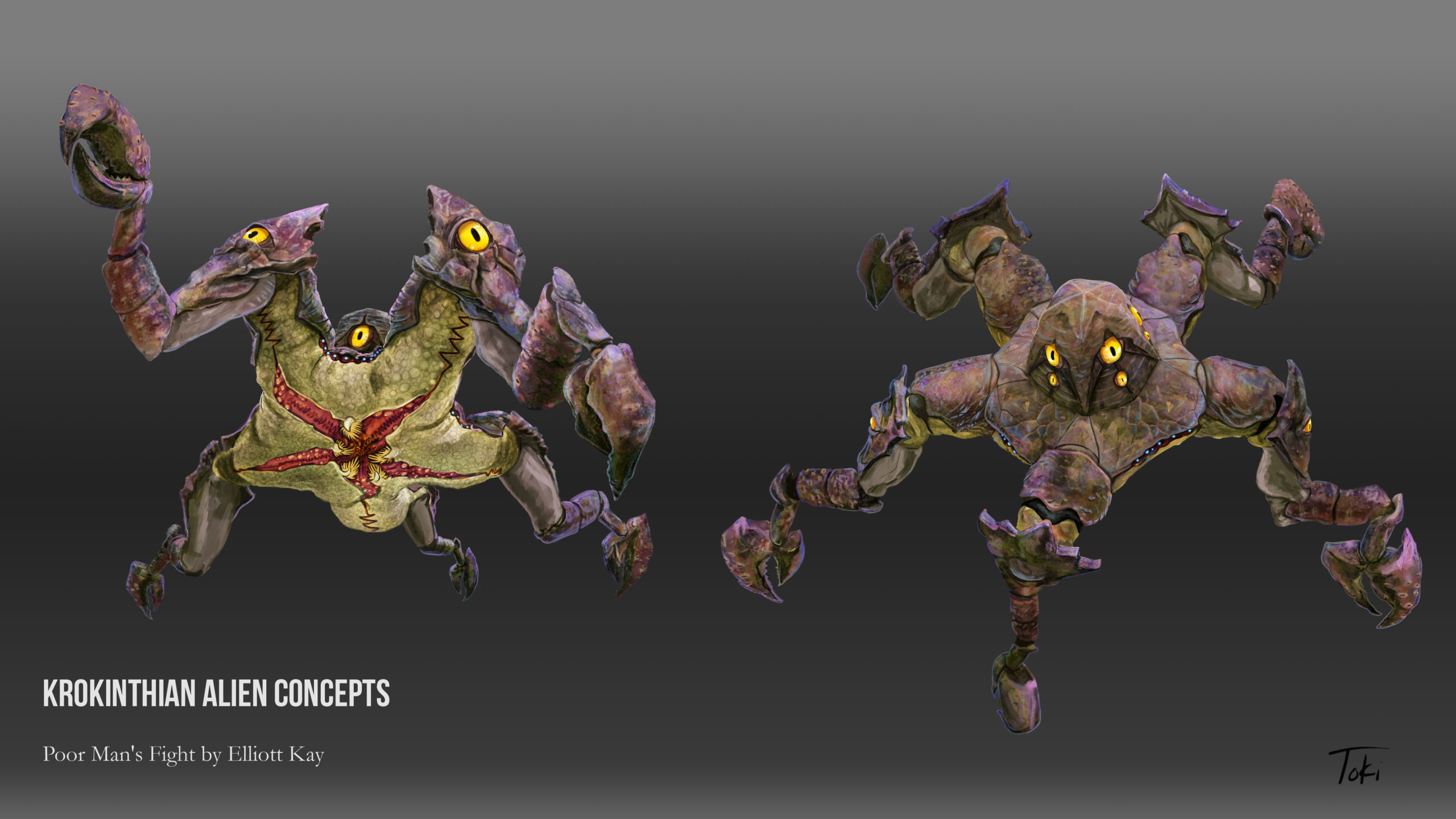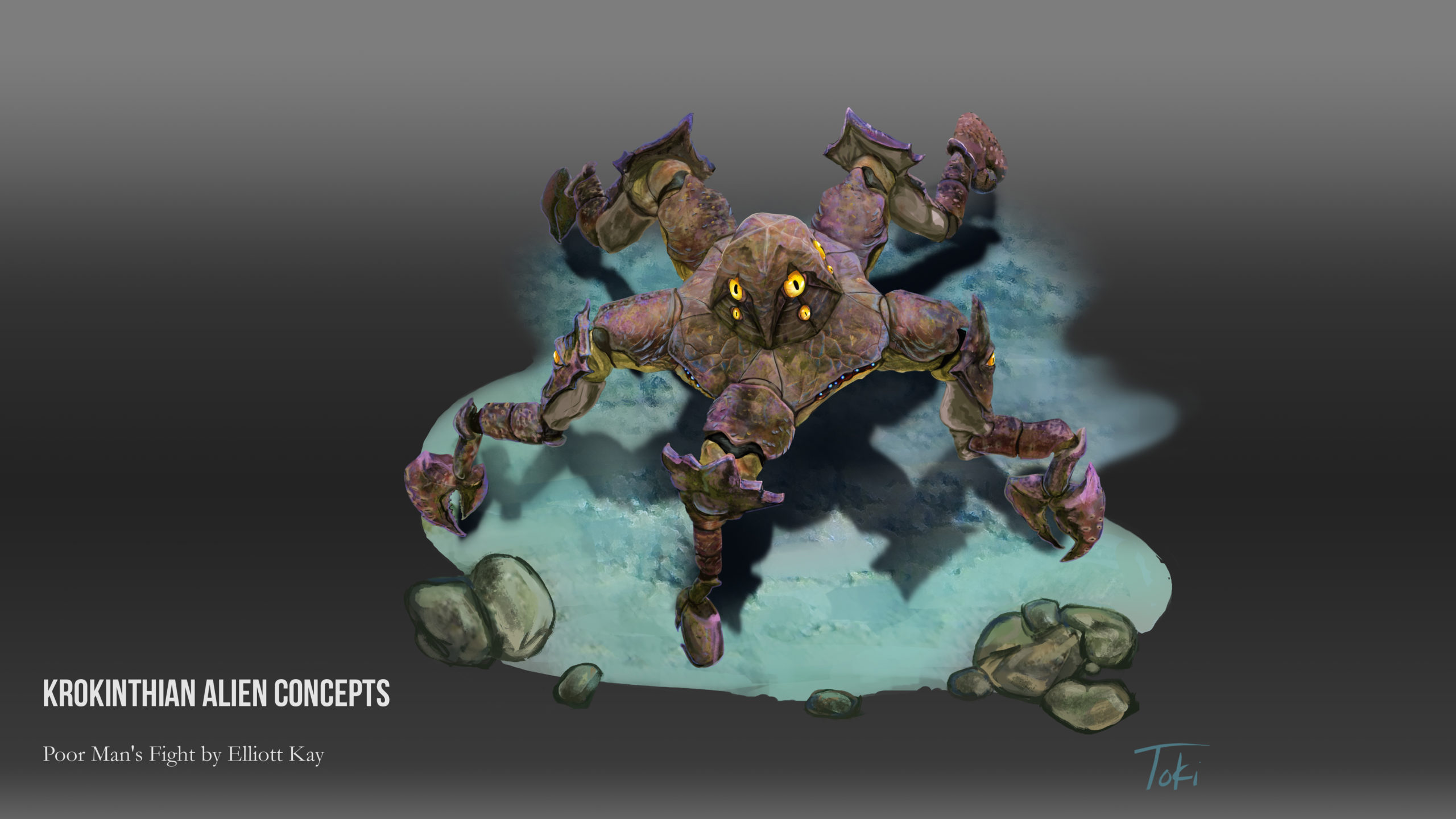 Krokinthians come from an aquatic environment, and thus their ships are filled with liquid. They've also evolved from pentagonal symmetry–they don't really recognize a front or back, and never really have to "turn" because they have eyes on all sides. All they do is shift their attention. Given all that, and with the average Krok being the size of an elephant, they aren't really capable of hanging out in space bars with humans… let alone interested.
As a note on the concept art process: Kelly took the ball I gave her and ran with it, and made some observations and additions I hadn't expected, but I love them. For instance, I had no idea the Kroks had eyeballs on their knees, but you know what? Yes. Kelly was absolutely right. Yes, they do have eyeballs on their knees.
KNEYEBALLS. THIS IS NOW CANON. (Okay maybe I'm not gonna call them kneyeballs in narrative text, but c'mon. Kneyeballs.)
And speaking of Poor Man's Fight, I had a piece done by the always amazing Julie Dillon a while back, but so far only my Patreon subscribers have seen it. I never meant to keep it a secret for so long. Life got away from me, like it kinda does. I'm THRILLED with this pic, though. Anyone who has read PMF should recognize this moment!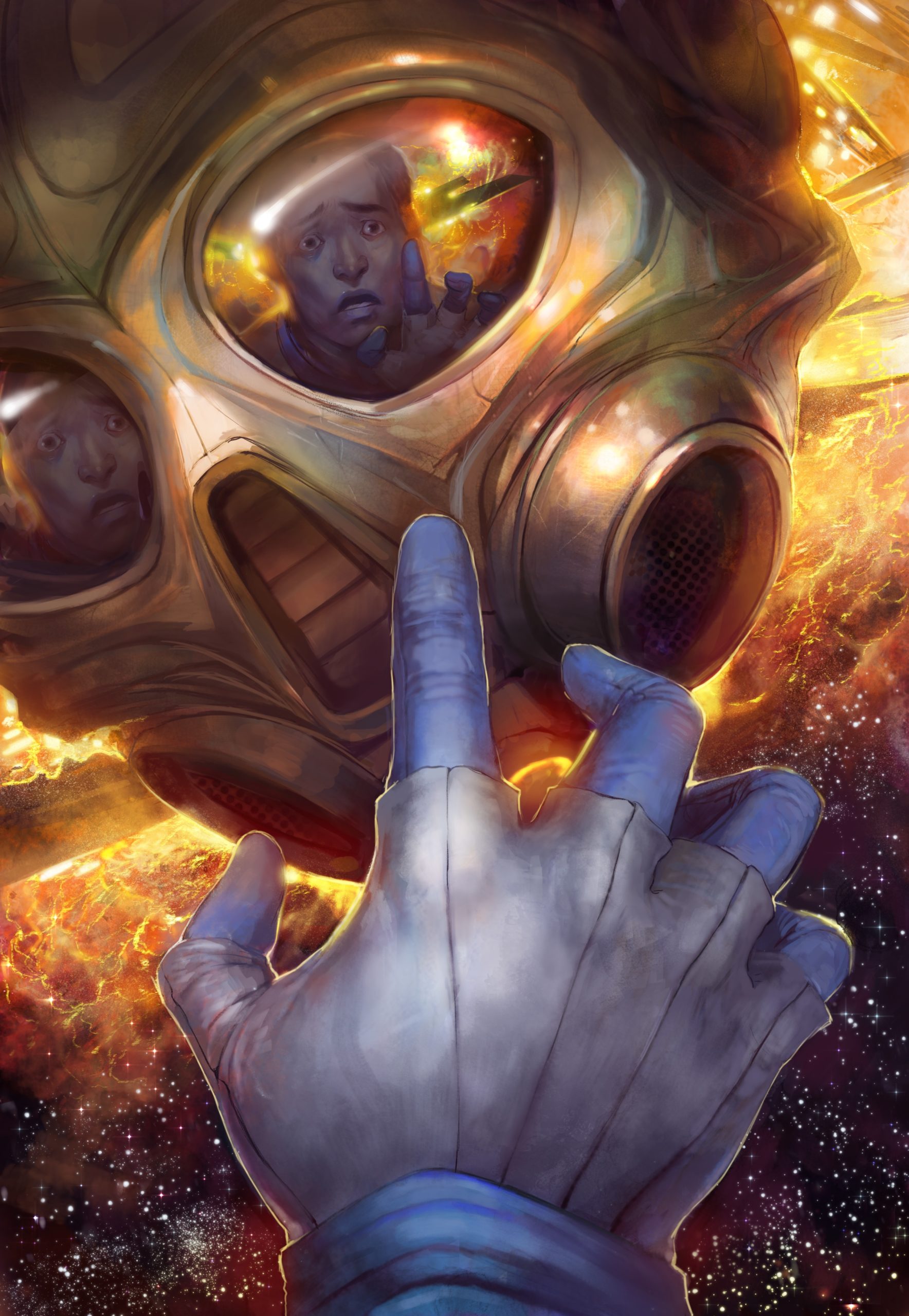 Cool, huh?
Aside from all that: I'm working on more books and more content as I said above. Everything is still nuts and it's tough on everyone. Turns out even when you already work from home and you are your own boss, these crazy times can still slow you down, but I'm still plugging away!
Hopefully I'm preaching to the choir here, but: please listen to doctors and scientists, wear masks outside the house, avoid going out, and please don't ever mistake the moron in the White House for a trustworthy source on anything. Take care and be good to one another!!