IT'S OUT!
They're out of the dungeon and into a world that doesn't want them.
The world's gonna have to deal.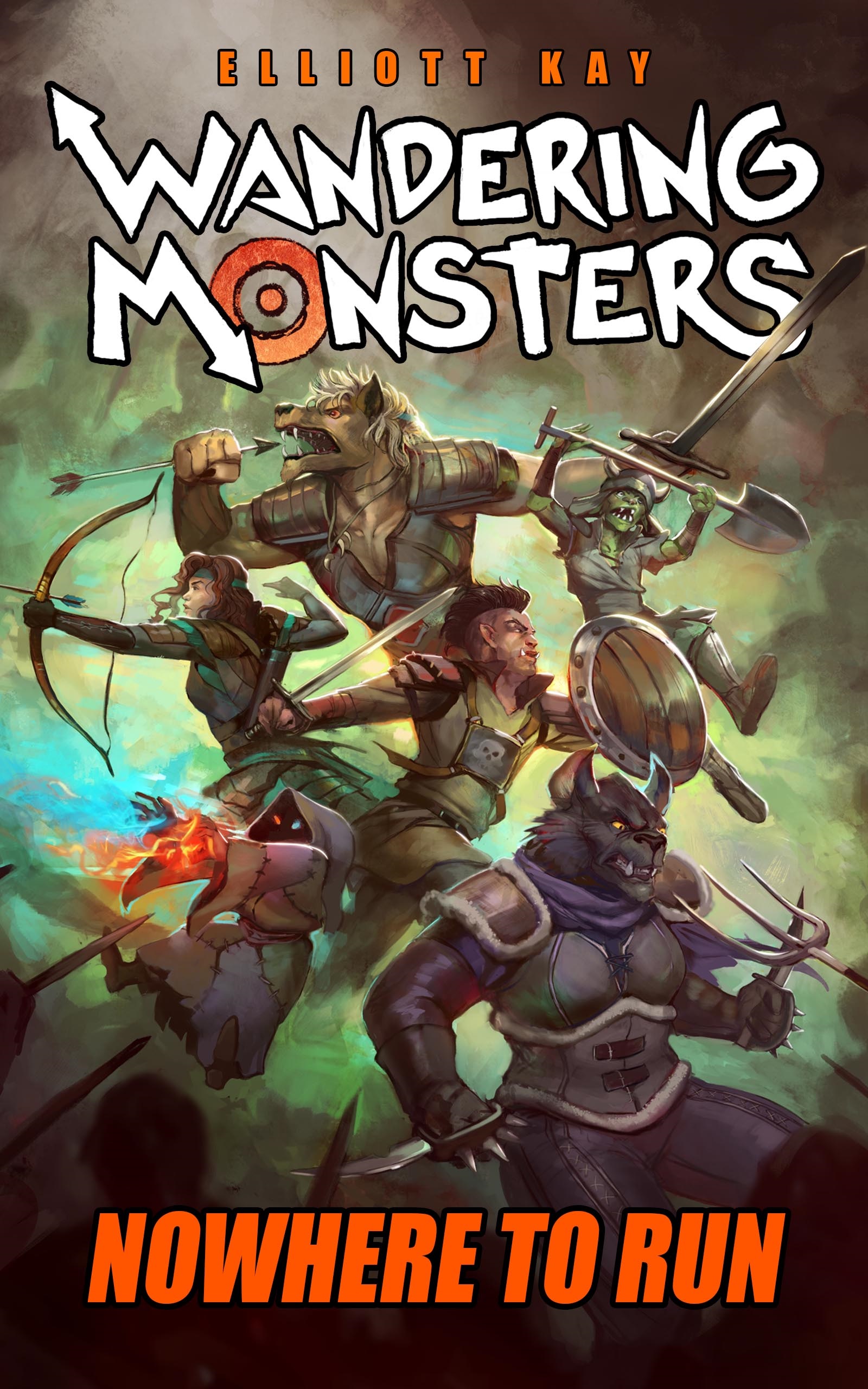 Life on the open road is no easier than working in the wizard's dungeon.
Scars and his crew escaped their old lives by finding each other, but a found family still needs a home. Even defense of a small mountain town from bandits doesn't change the order of exile against monsters throughout the kingdom. Given the boot as soon as the job is done, the crew discovers a blighted camp of orcs and goblin folk all under the same rule of banishment.Pinned against the border with no hope of mercy, the camp has little chance against hunger, raiders, and the dark otherworldly power hidden below the surface. With nowhere to run and no help in sight, the crew has to hold together tighter than ever—even if they have to open up about their pasts, share their dreams, and endure the horrors of warmth and friendship.
WARNING: NOWHERE TO RUN contains explicit violence, racial violence, religious violence, personal and general violence, profanity, inter-species oppression, mayoral misconduct, murder, impalement, dismemberment, multiple defenestrations, threats, torture, awkward friendship, mature reactions to sexual rejection, covert operations, revenge, sacrilege, kidnapping, bounty hunting, transdimensional incursions, temptation, possessions, disappointment, knives in the dark, knives in the head, so much knives, questionable theology, questionable economics, arson, treason, resisted arrest, obstructionist debate tactics, destruction of religious sites, unauthorized construction, unauthorized highway demolition, soul harvesting, prejudice, tentacles, bad candy, aiding and abetting of a known fugitive, sexual objectification of elves via pyrotechnics, cavalry warfare, banditry, robbery, negligent urban planning, wholesale theft of military supplies and too much information about mom and dad's sex lives.
Available in ebook and paperback: https://www.amazon.com/gp/product/B07SJQBX87
Looking for book one? Here it is: RUN LIKE HELL  https://www.amazon.com/gp/product/B07H2PM3M1
As always, thank you so much for reading! Hope you enjoy!