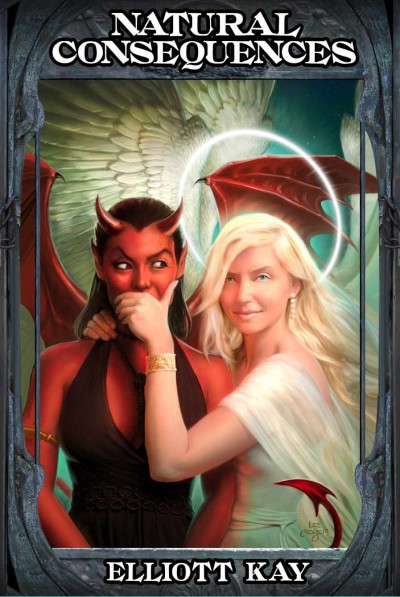 The exciting sequel to Good Intentions!
Alex Carlisle has enough to deal with even on quiet days. Living with an angel and a succubus is no easy feat. One has divine responsibilities she can't explain, and the other tempts him toward a decadent lifestyle he's not sure he can manage. Add to that the stresses of college and trying to hold down a job, and it's lucky Alex can even keep his head on straight.
Yet the complications keep on coming. An amorous (and terrifying) werewolf won't take no for an answer. Vampires from across the country want to know what happened to their allies in Seattle. To top it all off, events in the city have drawn the attention of Federal agents who know far too much about the supernatural, and they have no patience for the chaos that Alex and his friends leave in their wake.
WARNING: Natural Consequences contains explicit sex, explicit violence, explicit expletives, violent misuse of office equipment, nudity, perfidy, disruption of public transit services, polyamory, theft, arson, open relationships, trespassing, heterosexual foreplay, lesbian sex, depictions of beings of a divine and demonic nature bearing little resemblance to established religious or mythological canon, cell phone hacking, contempt of court, flagrant violations of civil rights, dangerous use of alcoholic drinks, infidelity, public sex, bras, panties, murder, attempted murder, blasphemy, atheist rationalizations, cannibalism, prostitution, decapitations, gossiping, defenestration, exsanguinations, tax evasion, sexual harassment, ancient Babylonian marriage customs, horse-poisoning, stalking, selfies, bribery, assault under color of authority, fantasy depictions of sorcery and witchcraft, highly sexualized Halloween costumes, assault and battery, stabbings, excessive handcuff play, mayhem, explosions, existential discussions, controversial topics of sci-fi fandom, living room sex, home invasions, mind control, conspiracy, cohabitation outside of marriage, multiple references to British science fiction literature and television, bad study habits, government surveillance, donuts, spousal abuse, interrogations, even more explicit sex, guys from Eugene, classroom misconduct, sexual misconduct, divine misconduct, general misconduct, voyeurism, reckless driving, murder of Federal agents, poor firearms safety habits, misuse of a swimming pool for gladiatorial combat, insanity, immolations, public endangerment, sexual promiscuity, consistent contempt of vampires (screw 'em, they suck), kidnapping of police officers, kidnapping of Federal agents, underage drinking, dismemberment, abuse of authority, still more explicit sex, electrocutions, destruction of private property, escape from Federal custody, barbering without a cosmetology license, World War I, betrayals, slavery, mild dom/sub play, cosplaying, a high school flashback, infidelity, reliable predictions of eternal damnation, destruction of a nice Zoot suit, nutshots, party fouls, littering, domestic violence, lengthy foreplay, abbreviated foreplay, disrespect for authority, falsification of records, prostitution, public indecency, impersonation of police officers, obstruction of justice, biting, clawing, hair-pulling, trash-talking and a general and willful disregard for traditional Western family values.

The humor is strong, the pop culture references are frequent enough to be amusing, but not so overwhelming as to be old. The plot moves quickly and well, with character development, plot progression and action (Both sexy and violent kinds) used well. I've just finished the sequel and all I can think is, "Yeah, but when is the third one coming out? Because I need it. Now."
-James Kerce Binion

Fun story, great dialogue, steamy situations, some great stuff to contemplate (the nature of the universe).. just good stuff all around. What I am starting to expect from Elliott. Keep up the good work!
-Tarl
---
Book categories: Erotica, Fantasy, Paranormal Romance, Romance, Sequel, Series, and Urban Fantasy